One of the best parts about living in El Monte is the around-the-clock nice weather. Our average temperature in January is a balmy 70 degrees and it hovers in the 70s and 80s for much of the year.
While we have some of the best weather on the planet, our climate still isn't moderate enough to make air conditioning units unnecessary. Indeed, August sees a 90-degree average — not to mention those scorching over-100-degree days.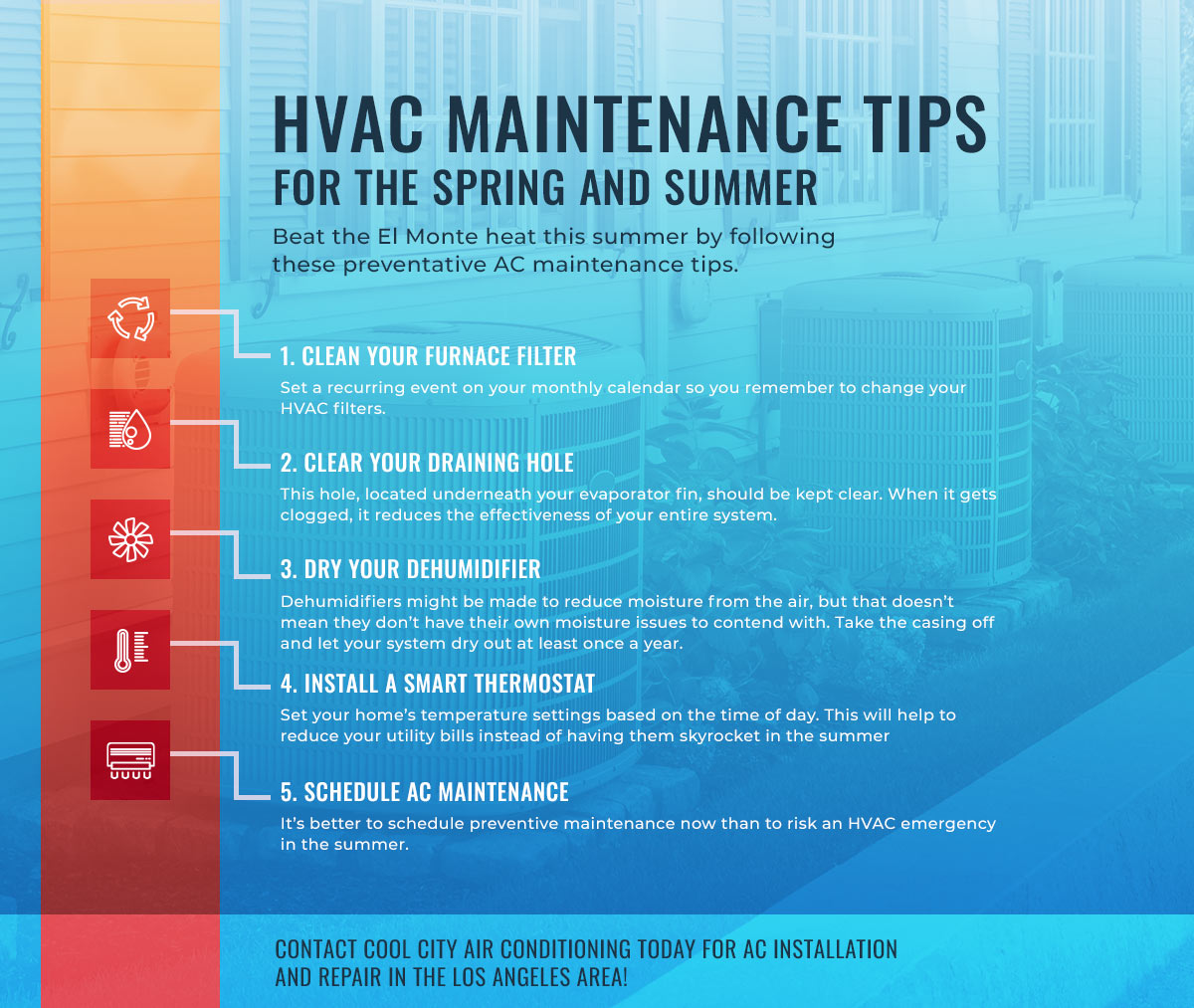 HVAC Tips For Summer
There's no sense in leaving your home's comfort — and safety — to chance. As you prepare for longer and warmer days, make routine HVAC maintenance a part of your schedule.
Check out these tips from Cool City Air Conditioning in El Monte to prepare your HVAC systems for summer. If it's time for AC repair or installation, schedule with our Top Rated Local® HVAC team.
Clean Your Filters
Cleaning your AC filters is one of the surest ways to extend the unit's lifespan. Some AC units require monthly filter replacement, while other units can get by for six months before they need a change.
You can work with a local HVAC company to get your AC on a good, regular maintenance schedule. This type of routine maintenance is imperative because a dirty filter clogs the mechanisms of your unit. The result? Dirty air and an elevated chance of emergency repair.
Check Condenser Coils
Condenser coils, which are located outside of your unit, remove heat from the refrigerant and turns it into a liquid. Essentially, it's the mechanism by which hot air becomes cold.
These coils, because they exist on the outside of your unit, tend to get very grimy. They're even more susceptible to clogging during the summer when you're using your AC unit more frequently.
While you're at it, check the evaporator coils as well. These coils have the same tendency to collect dirt as condenser coils.
Clear Condensate Drains
It's best to leave this AC maintenance up to a professional. Condensate drains can become clogged and therefore reduce the effectiveness of your machine. When a condensate drain is blocked, home air becomes more humid and less cool.
Replace Your AC Unit
If you're in a situation where your AC unit is becoming more of a repair liability than a help, it might be time for full AC installation.
When you have to perform AC repairs more than a few times a year, it becomes more cost-effective to replace the system. Not only will you save on costly utility bills with a more efficient machine, but you'll also reduce the frequency for which you need AC repair.
About Cool City Air Conditioning in El Monte
To make sure your AC and HVAC systems ready for summer in Los Angeles or El Monte, contact Cool City Air Conditioning. Our Top Rated Local® HVAC repair company can maintain air conditioning units, install air filters, and recommend whole-home purifiers.
Schedule HVAC repair or AC installation today with our local HVAC company in the El Monte and Los Angeles areas.